Translate this page into:

doi:
10.25259/JSSTD_17_2021
Cultural dermatoses: A review
Primary Health Center

,

Malayalapuzha, Pathanamthitta, Kerala

,

India
*
Corresponding author: Reshma Kunhi Kannan Amrutham, Near SNDP UP School, Malayalapuzha ERAM PO Pathanamthitta - 689 664, Kerala, India. reshmakkannan123@gmail.com
Received: , Accepted: ,
© 2022 Published by Scientific Scholar on behalf of Journal of Skin and Sexually Transmitted Diseases
Licence
This is an open-access article distributed under the terms of the Creative Commons Attribution-Non Commercial-Share Alike 4.0 License, which allows others to remix, transform, and build upon the work non-commercially, as long as the author is credited and the new creations are licensed under the identical terms.
How to cite this article: Kannan RK. Cultural dermatoses: A review. J Skin Sex Transm Dis 2022;4:33-9.
Abstract
The impact of globalization and migration is reflected in cultural dermatoses which in earlier times were localized to specific regions. Therapeutic, cosmetic, and religious practices can lead to dermatoses. Therapeutic practices such as cupping, coining, acupuncture, and moxibustion may cause purpura and ecchymoses which are sometimes mistaken for child abuse. Cultural perception of beauty is often the motivation behind practices such as threading, use of bleaching agents, henna, bindi, and hair oils, which, in turn, can cause irritant and allergic contact dermatitis as well as a host of other dermatoses. Prayer nodules and turban dermatoses may manifest as outcomes of culture specific religious practices. A knowledge of these conditions can help the dermatologist to offer a correct diagnosis and treatment.
Keywords
Therapeutic
Cultural
Cupping
Coining
Henna
INTRODUCTION
Cultural influences play a significant role in medical disease and the skin is no exception. The current era of globalization has resulted in cultural exchanges cutting across geographical boundaries. Easy access to travel and intermingling of cultures have resulted in an interesting array of presentations to the physician. Dermatoses that arise out of cultural influences pose a significant challenge to dermatologists all over the world. The dermatologist must be aware of the host of morphologic presentations seen on the skin that may relate either to cosmetic or therapeutic purposes. This review attempts to elucidate a few of the common cultural dermatoses as the topic is fairly exhaustive.
DEFINITION
No formal definition has been noted in current literature. Cultural dermatology could be defined as the range of cutaneous manifestations that arise from treatments (done for therapy or for cosmetic appeal) that were influenced by the locally prevalent cultural practices.
DERMATOSES CAUSED BY THERAPEUTIC CULTURAL PRACTICES
Cupping
Cupping (Hijama in Arabic) is practiced in many countries in Asia, Latin America, and Eastern Europe and in Mexico as a therapy for a variety of diseases ranging from headache, indigestion, and acne to pneumonia.[1-3] The technique involves using a cotton ball soaked in alcohol and burning it inside a glass cup. The cotton ball is removed immediately before transferring the cup in an inverted position onto the body; the most common sites selected for this treatment are back, chest, abdomen, and buttocks. The lack of oxygen inside the cup creates a suction effect which damages the blood vessels in the papillary dermis.[4] This results in a circular erythema which later becomes edematous and then ecchymotic.[5] The proponents of this practice suggest that cupping exerts benefit by transferring the pathology from one area to another or by elimination of toxins by increasing the circulation.[3] Different variations of cupping practiced include using lubricants to move the cup (which may produce linear streaks of purpura), wet cupping that involves abrading the skin before cupping and modern cupping that uses suction devices to create negative pressure.[5] The lesions produced by cupping may sometimes be mistaken for child abuse.[6] Complications of cupping are panniculitis, burns, ulcer formation, koebnerization, hyperpigmentation, erythema ab igne, and suction blisters [Figure 1].[7]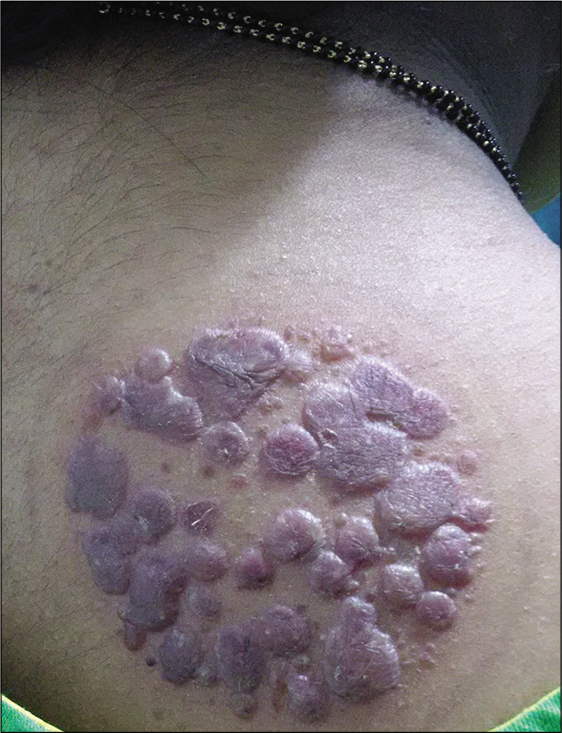 Acupuncture
Acupuncture is a form of traditional therapy popular in China and Japan. It involves the insertion of disposable sterile needles onto the acupoints over the skin and their stimulation by needle, heat, or pressure. The philosophy employed is to alter the vital energy (Qi) between the different organs. It is employed as a treatment for a variety of disorders including dermatological disorders such as acne, atopic dermatitis, psoriasis, chronic urticaria, varicella infection, and herpes zoster.[3,5] The adverse events are bleeding, purpura, ecchymoses, hematoma, localized argyria, and silica granulomas; very rarely serious events such as pneumothorax and anaphylaxis may occur.[3,8,9]
Moxibustion
Moxibustion or therapeutic burns is an unusual form of traditional therapy used in various Asian cultures.[2] The moxa herb (Mugwort, Artemisia vulgaris) is rolled into a cone and burned on the skin in direct moxibustion.[3,5] In indirect moxibustion, the moxa stick is lit near the skin or is burned over acupuncture needles.[5] Moxibustion is used to treat a variety of conditions ranging from fever, abdominal pain and verrucae to breech presentation, stroke rehabilitation and cancers. The most common complications are burns and the rare adverse events include blistering, pruritus, keloids, cellulitis, and abscess. The discrete circular or target-like burns resemble cigarette burns and hence may be misdiagnosed as signs of child abuse.[3]
Coining
Coining (Cao gio meaning scratch out the wind in Vietnamese) and spooning (Gua sha meaning scraping sand in Chinese) are practiced in various Asian cultures as a remedy for fever, headache, and chills.[10] The edge of a coin or spoon is vigorously rubbed on the oiled skin, until petechiae, purpura, or ecchymoses occur. Most often these appear in a pine tree pattern.[3] This practice is believed to get rid of all bad winds causing illness and the lesions can be mistaken for child abuse.[2]
Ayurvedic medicine
In India, Ayurveda is a way of life and Ayurvedic medicines, both topical and systemic are universally perceived to be without any side effects. Some Ayurvedic preparations contain toxic levels of lead, cadmium, and mercury and their ingestion may result in heavy metal toxicity.[3] Furthermore, arsenic can cause palmoplantar keratoderma, leukomelanoderma, arsenical keratosis, Bowen's disease, and squamous cell carcinoma (SCC).[11] Mercury can cause gingivitis, stomatitis, and acrodynia.[12] Steroids in topical and systemic preparations alter the dermatological picture and can lead to weight gain, hypertrichosis, and depigmentation.[13] Topical preparations like "thailams" (Ayurvedic oils) have led to allergic contact dermatitis including exfoliative dermatitis and irritant contact dermatitis.[11,14,15] As part of aromatherapy, mustard, coconut, linseed, and gingelly oils are used, which may cause photosensitive reactions and perioral and intraoral dermatitis.[16] Oil of bergamot, popularly used in aromatherapy contains furocoumarins, mainly bergapten (5-methoxypsoralen), which can cause photo-toxicity.[17]
DERMATOSES CAUSED BY CULTURAL AND SOCIO-ECONOMIC PRACTICES
An understanding of the cultural and socio-economic practices of various cultures is an essential knowledge for the practicing dermatologist. The multitude of sociocultural and religious practices in a country of wide diversity, like India, can give rise to numerous dermatoses. Since this is an exhaustive topic only a few dermatosis relevant to the Indian scenario and that which may pose diagnostic dilemmas will be mentioned here.
CONCLUSION
Cultural and social beliefs and customs are part and parcel of every society. Migration and transportation have become so easy, nowadays, that no cultural practice may be thought of as strictly confined to any one region. Hence, a comprehensive knowledge of the various dermatoses related to the therapeutic and cultural practices go a long way in formulating a correct diagnosis and treatment.
Declaration of patient consent
Not required as patients identity is not disclosed or compromised.
Financial support and sponsorship
Nil.
Conflicts of interest
There are no conflicts of interest.
Show Sections